Eco Xtreme Adrenaline
Eco Xtreme Adrenaline
Our most popular extreme adventure trip, the Eco Xtreme Adrenaline tour includes rainforest hikes, whitewater rafting, and a high speed canopy course. For the extreme adventurer, this is surely the Costa Rica trip for you. This vacation is AWESOME!!!
---
Day 1:  Welcome to Costa Rica!  Upon arrival to San Jose International Airport (Liberia International Airport can easily be arranged), you will be greeted by a Pacific Trade Winds S.A. representative. Private transportation will then be provided to the 4 Star Arenal Springs Resort located in La Fortuna.  This fun little tourist town is located in the shadow of the imposing Arenal Volcano.  During your stay, you will enjoy a Junior Suite equipped with king or queen size beds, A/C, cable TV, ceiling fan, refrigerator, telephone, security box, hair dryer, and Terrace with an amazing view of Arenal Volcano.
(Rental Car can be substituted for provided transportation. Please see below for difference in pricing.)
Included Meals: 0 on Day 1 / **Itinerary is shown in Superior Hotel Class.
---
Day 2: Professional bilingual guides will lead you through class II and III rapids on one of Costa Rica's best Whitewater Rafting rivers, the Rio Balsa.  This fun filled adventure will provide plenty of memories and stories for your friends and family.  Lunch included.
(Upgrade to the Rio Toro Class III & IV Rapids for $20 per person additional)
Included Meals: Breakfast, Lunch
---
Day 3: Prepare yourself for an action packed day like no other!  In the morning, professional bilingual guides will lead you through a series of 4 Rappels Down Rainforest Waterfalls on your amazing "Canyoning Adventure."
Included Meals: Breakfast, Lunch
---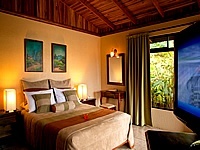 Day 4: Our famous Land-Boat-Land transportation to Monteverde.  After crossing Arenal Lake which provides some of the best photo ops of the imposing volcano, you will be brought to Hotel Poco a Poco. During your stay, you will enjoy a Standard room equipped with 1 King or 2 double beds, telephone, cable television and DVD, coffee maker and in room safe. Breakfast included daily.
Included Meals: Breakfast
---
Day 5: You will soar through the tree tops of the Cloud Forest on your canopy zipline adventure. This high flying, high speed canopy course consists of 16 ziplines, 1 rappel and a giant tarzan swing!!! The canopy zipline is a one of a kind adrenaline packed tour which is Costa Rica's most popular adventure activity with thousands participating annually.
Included Meals: Breakfast
---
Day 6: There is no speed limit on this adventure! Prepare yourself for your off road ATV adventure. No experience is necessary for this 2 hour expedition through 15km of off road trails and back roads. This ride provides a great way to explore the areas which are far from the beaten path.
Included Meals: Breakfast
---
Day 7: Transportation will be provided to The Falls Resort located in Manuel Antonio. This new resort offers a refreshing approach to luxury accommodations in Manuel Antonio. The resort is surrounded by lush tropical gardens and waterfalls, providing a serene environment and splendid views. During your stay, you will enjoy a standard Suite equipped with king size bed, full bath with large walk in shower, cable television with DVD, mini-bar, overhead fan, air conditioning, covered porch with sitting area and a hammock for relaxation.
Included Meals: Breakfast
---
Day 8: Alright, let's face it.  We have all dreamed about surfing.  Now here is your opportunity to learn how.  The guys down at the surf shop are going to supply you with a board and teach you how to use it.  After a couple of hours of Surf School, you will be able to practice on your own with an additional all day board rental provided.
Included Meals: Breakfast
---
Day 9: Enjoy a relaxing day on one of the most beautiful tropical beaches in the world. Take a dip in the crystal clear blue waters of the South Pacific. Bask in the warm rays of the tropical sun, as you listen to the waves crashing and howler monkeys, (well howling) in the background.
Included Meals: Breakfast
---
Day 10: Private transportation will be provided to San Jose International Airport scheduled to arrive 3 hours prior to your departure.
Pura Vida!!!
Included Meals: Breakfast
---
Included in the Eco Xtreme Adrenaline vacation:
Travel Assistance while in Costa Rica
Airport Greeting
All Domestic Transportation as Described
Unlimited Complimentary Use of Hot Springs at Arenal Springs Resort
Whitewater Rafting Class II & III Rapids
Canyoning & Rappelling Adventure
Land – Boat – Land transportation to Monteverde
Canopy Zipline Adventure
ATV Adventure
Surf Lesson
3 Nights at Arenal Springs Resort & Spa – La Fortuna
3 Nights HotelPoco a Poco – Monteverde
3 Nights The Falls Resort – Manuel Antonio
10 Breakfast, 2 Lunches
(Superior Hotel Class Version)
---
Based on availability, this Private Vacation can be started on any date.
Limited time offers: Many of our Costa Rica vacation packages are now available at low discounted rates for a limited time only. These rates are only available through Pacific Trade Winds S.A., based on special agreements we have with each of the respective providers. Once the guest quotas have been met, this special offer will no longer be available. Discount Rates are only available to first five room reservations per calendar date. Call Now Toll Free 1-866-853-9426.
May 1 – November 30, 2013 and 2014
Promotional rates apply ONLY to the first 5 reservations per calendar date.
Occupancy
Provided Transportation
4×4 Rental Car
Class
Tourist
Superior
Luxury
Tourist
Superior
Luxury
Double
O.R.
$ 1,249
O.R.
O.R.
$ 1,349
O.R.
Triple
O.R.
$ 1,099
O.R.
O.R.
$ 1,199
O.R.
Quadruple
–
$ 949
–
–
$ 1,049
–
Single
O.R.
$ 1,949
O.R.
O.R.
$ 2,049
O.R.
Child 8 – 12 years
O.R.
$ 599
–
O.R.
$ 599
–
December 1 – December 20, 2013 and January 5 –  April 30, 2014
Promotional rates apply ONLY to the first 5 reservations per calendar date.
Occupancy
Provided Transportation
4×4 Rental Car
Class
Tourist
Superior
Luxury
Tourist
Superior
Luxury
Double
O.R.
$ 1,349
O.R.
O.R.
$ 1,449
O.R.
Triple
O.R.
$ 1,249
O.R.
O.R.
$ 1,349
O.R.
Quadruple
–
$ 1,099
–
–
$ 1,199
–
Single
O.R.
$ 2,199
O.R.
O.R.
$ 2,299
O.R.
Child 8 – 12 years
O.R.
$ 699
–
O.R.
$ 699
–
Normal High Season Rates 
Occupancy
Provided Transportation
4×4 Rental Car
Class
Tourist
Superior
Luxury
Tourist
Superior
Luxury
Double
O.R.
$1,499
O.R.
O.R.
$1,599
O.R.
Triple
O.R.
$1,349
O.R.
O.R.
$1,449
O.R.
Quadruple
–
$1,199
–
–
$1,299
–
Single
O.R.
$2,299
O.R.
O.R.
$2,399
O.R.
Child under 9 years
O.R.
$799
–
O.R.
$799
–
Rates are in U.S. dollars, per person, based on occupancy
Prices Include Sales and Turismo Taxes
Children's rates are based on staying with 2 adults in shared occupancy
Car Rental rate includes 4×4 compact SUV with Manual Transmission and Unlimited Mileage, CDW, Mandatory Basic Insurance and Plates. (Valid credit card with available space of up to $750-1,500 must be presented upon signing for the rental vehicle, deposit varies on vehicle type)
Related posts: